5 Ways to Save and Spend
Do you have holiday money you don't know what to do with? Or have you been saving your allowance all year long? Having extra money at the end of the year can be fun. Think of all the great things you could buy!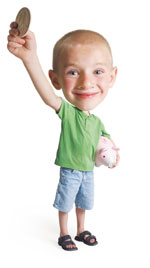 Smart Saving

But maybe you shouldn't spend it all. Sure, that's not as much fun – right now. But you might be happy in the months ahead that you didn't spend every penny. Here are some tips to make sure you have some money left over:

Talk to your parents

about how much you have and decide how much you should spend and how much you should save.


Make a list

of the top three things you want.


Make a list

of the top three things you need.


Figure out what you can buy off of your list

using the money amount you and your parents agreed on in step 1.


Put what's left in your piggy bank or in a savings account

at your credit union for a rainy day!